Review: Maus is a heart wrenching book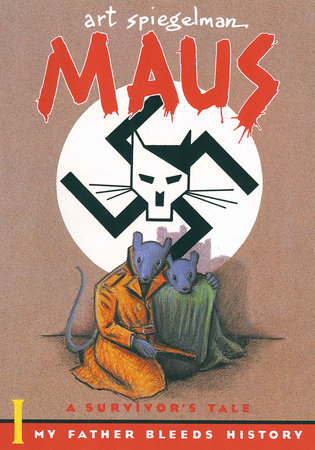 Disclaimer: According to Common Sense Media, Maus is "a powerful graphic-novel memoir of the Holocaust that features disturbing content."
Maus 1 was written by Art Spiegelman and published in 1986. It is about the author's father and his experiences going through Auschwitz. Maus is a book series consisting of 2 books, both the books were the winner of the 1992 Pulitzer Prize.
The books are written in a comic book style and the people in the book are depicted as animals instead of humans. The Germans are cats, Polish people are pigs, and Jewish people are mice. It's a metaphor that shows how the Nazis viewed everyone.
Maus begins with Vladek Spiegelman, Art's father, telling what his life was like before the war and how he had met Anja Zylberberg, Art's mother. They got married and had one child before the war started named Richieu, he died before Art was born. 
Before things got bad life was good for them, Anja's family were millionaires and lived in a mansion with a few other family members. But after Vladek got drafted and came back from a POW camp everything changed for the family and everyone around them.
They had to rely on food packages that could barely feed them and they weren't able to make Zlotys, which is Polish currency. As a way to get food people were able to buy from the black market but it was dangerous because if caught one was immediately sent away to the prison camps.
Slowly people got sent to ghettos to work and free up space for non-Jews, and whoever was left was sent to Auschwitz. It was hard to survive, the Nazis goal was to finish their enemies out and no one could fight back due to starvation and exhaustion.
Maus also shows the author's view on everything and shows his struggle with his life and his father throughout the book. Art is shown to be haunted by his fathers past and feels some type of guilt for not being able to know how it really felt for his father.
Vladek is also dealing with his failing health and his wife Mala who he married soon after Anja killed herself in 1968 with no note. Ever since WWII Vladek has made a choice to never waste food and to never waste money, but Mala doesn't agree with his lifestyle and this causes both of them to be unhappy with their marriage. 
Maus is a great book that shows the past life of someone going through the Holocaust and the effects it had on their present life. It is one of my favorite books and I could reread it multiple times and never get bored. I give it an A and would recommend it to a friend.