Cooper being the four-pawed counselor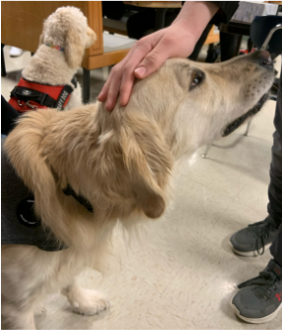 On Aug. 23, Cooper started the beginning of his second year being a therapy dog at OTMS.
Cooper is a golden retriever who is friendly to all who meet him. Counselor Valerie Seedorff and Cooper usually stand in the hallways and greet everyone. Students as well as teachers come up and pet his head. 
"He has helped a lot of teachers and students who come to see him,"  Seedorff said.
Cooper is a nice dog who may be shy but he loves people. His sweet face combined with his peaceful golden color gives him his comforting personality.
"He looks adorable and seems like he is a good dog," eighth grader Karaselle Howard said.
Cooper is a member of the OTMS school counselors team. He is ready to help anyone get through the day with his delightful smile.
"After a long day, it is nice to see Cooper and get a chance to pet him,"  eighth grade math teacher Bridget Schinstock said.
The process to get Cooper here was a long one.  It took about four years.
"Cooper was the first therapy dog in this district," Seedorff said. "I talked to everyone I needed to here and convinced them it was a good idea. As for Cooper, he went through about a year and a half of different training programs, but that is pretty normal for training."
Cooper the therapy dog is ready and waiting for anyone to come pet his head or to allow him to sit and listen as he helps.